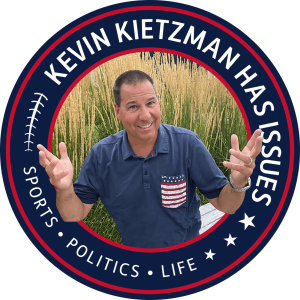 Friday Aug 25, 2023
Tonys KC Busts City Hall, Trump's Epic Mugshot, T-Mobile Cuts 5000, Chiefs WR Decisions, Shannon Sharpe is Back
   I waited 6 years for www.turnpiketroubadours.com to release a new album this morning and was so excited to hear it.  Then I read www.tonyskansascity.com and it took the prize for best package under the tree.  Yes, real journalism is back!  Tony reports that the Clay County poll against the Royals relocating to NKC is completely and utterly fake and he found out who paid for it. This is great, great work and shines light on disgusting, behind the scenes dirty dealing.
   Trump's mugshot may become the most famous photo of this century in American history but how he decided to deal with it was classic Trump.  In doing it his way, nobody is talking about the charges he faces, he's got everyone talking about silly stuff, which proves the whole thing is silly.
   T-Mobile is cutting 5000 jobs and that's bad for KC.  Remember how great Sprint and Cerner were for KC before Bidenomics?
   The Chiefs believe they have 8 NFL wide receivers in camp but will only keep 6 or 7.  I make a case for keeping 7.
   Shannon Sharpe has a new tv gig starting next week, Joe Biden wants to take away you ceiling fan and keep you to two alcoholic drinks per week and what do you know... paper straws are worse for the environment than plastic.
Comments
(1)
To leave or reply to comments, please download free Podbean or