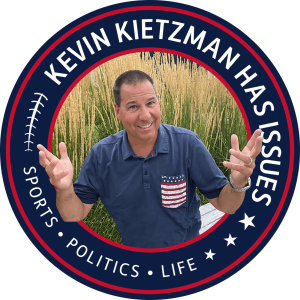 Monday Nov 20, 2023
Super Bowl Rematch is Here, Cats Outlast KU, Mizzou Miracles Continue, NFL Targets Bengals, J6 Footage Cover Up, Vivek Slams Racist Dem, Argentina Trump Wins
   The "game of the year" is here but it doesn't feel nearly as important as what we know will be bigger games for the Chiefs.  Still, after 15 days off, it's time for the Chiefs to show another gear beginning now.
   Kansas State came from 11 down to beat KU Saturday night in Lawrence and it reminded me of exactly how KU frequently beats K-State in hoops.
   Mizzou's miracle season continues after a wild 4th and 20 game saver and another game winner by the thicker kicker.... this time doing the Gator chop after beating Florida.
   The NFL should hammer the Bengals by taking a draft choice from them, for cheating.  I'll fill you in.
   All the J6 footage has now been released and we have complete confirmation this thing was a total scam.
   A black political analyst refuses to properly say Vivek Ramaswamy's name and tells him to "go home."  Uh oh... that's as racist as it gets and Vivek pounced on it.
   The Trump of Argentina just became president in a landslide win and rapper Cardi B is done with Joe Biden.