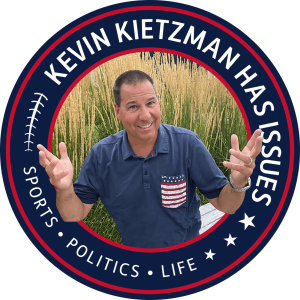 Friday Oct 27, 2023
Stadium Cost Freak Out, MSHSAA Screws Up, RFK Attacker Arrested, Chiefs WR Practices, Computer Loves OU, Paramount Picks
   We've got a full show for you on a large number of topics including a "secret memo" indicating a new stadium for the Royals could cost 6 times as much as the Royals claim.
  The Missouri High School Athletic Association ends a small school's volleyball season before the state semi finals fort the most ridiculous reason you've ever heard.  What a bunch of clowns.
   Did you know a man climbed a fence at RFK jr's house trying to get to him and was arrested?  Did you know the man came back after being released?  Did you know RFK is getting 14% of the vote in some polls and despite his family's history with assassinations, he has no help from Secret Service?  Even Iranian ministers threatening America have that service while in the country.  Amazing.
   Chiefs wide receiver Justyn Ross is back practicing and could play Sunday after being arrested.  The computer says OU has an 87% chance of beating KU and I'll tell you why I think that's nuts and Lee Sterling of www.paramountsports.com is here with this weekend's pigskin picks.