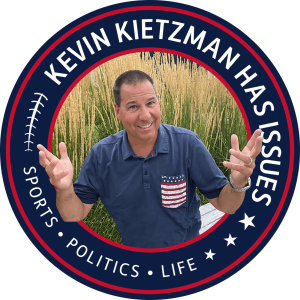 Monday Mar 06, 2023
One-Sided Comedy, Kelce Better than Writers, Big12/SEC Brackets Set, R's New Broadcasters, Pitchers' Simple Challenge
   For over a year, people on the left have been trying to cancel comedy that's honest, real and funny and only allow comedy approved by liberals.  It's never been more apparent than the ridiculous amount of leftist filth on Saturday Night Live where Travis Kelce more than held his own and a Netflix special from Chris Rock that broke all the rules and relentlessly attacked a pair of black women.
   Missouri had a great weekend in basketball as they beat Ole Miss and get the double bye with a four seed in the SEC tourney.  What happens, however,  when they start playing,  is a gauntlet.  KU and KSU both stunk it up on the road and hope for some home momentum in KC this week.
   The Royals have added three new members to their broadcast team this year.  Three more white guys.  How are they getting away with 9 announcers and they are all white guys?
   As 10 Royals are leaving for a couple weeks for the World Baseball Classic, they are all buzzing about new manager Matt Quatraro and the simple message to pitchers from the pitching coach.