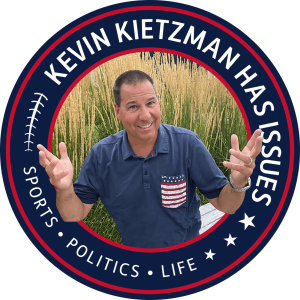 Thursday Sep 08, 2022
Mother Attacks Britt Reid, KC Media Ignores the Obvious, Journalism on the Brink, KSU's Viral Chant Under Fire, Seinfeld's Wet Blanket on Mets
   Felicia Miller is the mother of little Ariel Young who's been left badly impaired for life after former Chiefs coach got Britt Reid drunk and slammed into their car.  Despite taking millions from the Chiefs and signing an agreement to not talk about the Chiefs, Miller has just unloaded on Facebook at Britt for his lame apology  telling him to take the apology and shove it "up your ass."
  Meanwhile, this obvious story of white privilege versus the plight of African Americans is completely ignored by liberal media outlets in KC who choose to report about racist roads and national parks instead of hearing Miller's claim that, if all this were reversed, she would have been in jail without bond while Reid has been roaming free all this time.  
  It's not just KC media at a tipping point, our entire system of enterprise reporting is dead because of corporate influence.  The Chiefs do it here just like Facebook did it with the election.  And it's always the same story...  big money suppresses stories from being reported.  What a disaster for America. 
  Kansas State student busted out an "F--- KU" chant last week during the playing of the Wabash Cannonball at the football stadium.  It's now a national story as KSU says they will pull the plug on the song Saturday if they do it again.  The big question is will Mizzou fans join them in the chant?
  Salvy walks off the Royals, a 5 hour tennis match ends just before 3:00 am and Mets fan Jerry Seinfeld blames the Mets' recent losses on too much fun at Mets games.