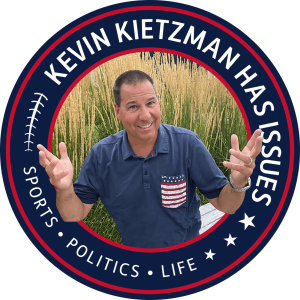 Wednesday Nov 15, 2023
KU Big Man Rules His World, Good People in Focus, Email Makes Me Cry, Chiefs/Eagles Preview, KU QB 180, B12 Tiebreaker Mess, Rory Resigns
   Hunter Dickinson is a freak and when you watch him play for KU all you can ask is, why isn't he in the NBA after years of college hoops?  I'm no draft expert but I know this, he's better than everyone else in college and it showed in a stunning performance in KU's win over Kentucky.  It's as lopsided as Xi negotiating with Biden.
   Good people are in focus after 300,000 supporters of Israel gather in DC without a single incident.  It's easy to see good people in the world.  A listener highlights that for us all with a story that brings your humble host to tears.  You don't want to miss this.
   Then, it's on the to the regular season game of the year as the Chiefs defense prepares to make amends for a poor showing against the Eagles in the Super Bowl.  We break down what these two teams are good at and where they struggle.
   KU football coach Lance Leipold has done a surprising 180 on his qb situation a day after he said he was "very optimistic" Jason Bean would play against KSU.  What's going on here?
   The Big 12 has a tiebreaker mess on its hands with two weeks to go in the football season and it's clear they'd better draw up some plans for having two or four divisions in the league going forward. 
   Gary Woodland is courtside in Chicago after brain surgery, Rory McIlroy resigns from the PGA Tour Board and we have an update on a Seinfeld reboot.
Comments
(3)
To leave or reply to comments, please download free Podbean or
Loved her speech because transhumanism is here and people need to realize what's going on. one of your best episodes ever Kev
amazingly insightful and brave speech