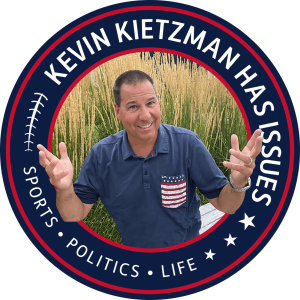 Friday Sep 01, 2023
First Half Propels Mizzou, KU/KSU Ready, Kelce's Message for Jones, Alexa: No Election in '24, Paramount Picks w/Lee Sterling
   In a tale of two halves, Mizzou rode Brady Cook's hot hand to a big halftime lead and cruised to a 35-10 season opening win.  Nebraska blew a lead and Lee Sterling got our patrons to 1-0 with his Utah pick.  Night one is in the books and now KU and KSU take the stage.
   Travis Kelce has a message for Chris Jones... he busted it out on his podcast with his brother.  It's the same thing I've been saying and we'll play it for you.
   A man on X has posted a video of his Amazon Alexa device saying there will be no election in 2024 because the Dems will invoke the War Powers Act.  What?  So I asked mine and it seems to be indicating the same thing.
  84 year old Andrew Lester will stand trial after the grazing of teenager Ralph Yarl outside his front door months ago in the Northland.  But even a trial isn't enough for the crazy race baiters, now they're bitching that the cops were too gentle with the feeble old man.
   Then Lee Sterling of www.paramountsports.com joins us for his week one picks in college football after starting 2-0 last weekend and hitting his pick last night.  Let's do this!
Comments
(1)
To leave or reply to comments, please download free Podbean or