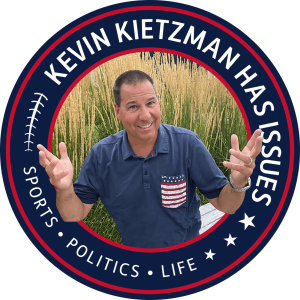 Tuesday Nov 07, 2023
Election Day for Some, Obama Holds Biden Key, Spring Hill School Book Shocker, Scribe's Great Take on Tyreek Fail, KU Big Man is Freak, Kelces Opposite Birthdays
  Sorry for the delay, I had to smash my computer with a sledge hammer before I got this podcast to you. 
   It's election day for some and election analysis for all of us we'll try to gather some voter sentiment info based on outcomes in Kentucky and Virginia.  And locally... have Republicans mobilized enough to gain back their city councils, school boards and mayors?
   The Dem freak out over Trump's huge poll lead over Biden has most Dems wanting Sleepy Joe to go away.  But only one person matters... Barack Obama holds the key to who runs in 2024.
   In Spring Hill, teachers and administrators bought books teaching masturbation, pornography and other crazy sex stuff to teach 14 year olds in health class.  These books were NEVER approved by the Board of Education and it looks like a cover up occurred.  But the worst part.... these books contain information about "rational" and "assisted" suicide.  What the hell are we doing?
   Sam McDowell of the Star has the best of the best observations from the big play in the Chiefs game Sunday and I wish I had thought of it.  But I'll take a couple steps forward from Sam's thinking.  This is just awesome.
   KU big man Hunter Dickinson was better than great in his KU debut and has Jayhawk fans everywhere booking flights to the Final Four.
  Jason and Travis Kelce did entirely different things on the their birthdays the past few weeks and the Kansas City Mavericks are off to a 7-1 start and packing the seats at 10:30 am on a Tuesday morning.  I'll tell you why.