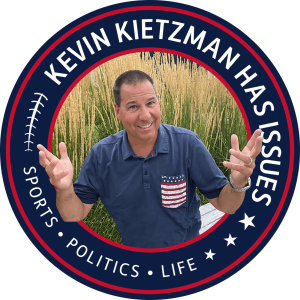 Thursday Aug 24, 2023
Childish Pols Attack Vivek, Fox Fails Big Time, Stan Weber on Chiefs, Chris Jones, Jalon Daniels, RJ Garcia and MU QB's
   A bunch of grumpy old politicians shouted, "get off my lawn" to Vivek Ramaswamy at the first Republican debate as they are clearly jealous of all the attention the 38 year old is getting.  Then they turned into babies on the playground calling him names.  The only thing worse may have been Fox News doing the bidding of Democrats with stupid questions about climate change and abortion that made the whole night a loser for conservatism in America.
   Stan Weber is here to talk Chris Jones situation and break down the backup QB race.   Then, why is there no real news on the health of pre season offensive player of the year in the Big 12, KU quarterback Jalon Daniels?  Is wide receiver RJ Garcia the next big thing at K-State as they look for a superstar at that position?  And is Mizzou featuring two quarterbacks in the opener a real thing or is it just taking a longer look at the real backup?
  Finally, you're 23 and your name is Bobby Witt Jr.  You're already a top 5 player in baseball and you have the day off today in one of the most beautiful places in the world... Seattle.  How would you spend your day off?