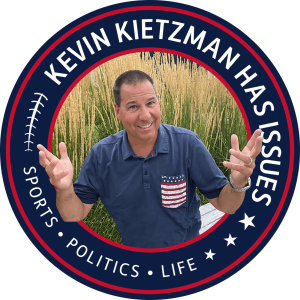 Monday Nov 13, 2023
Chiefs Win Bye Week, Mizzou Makes Statement, KU Needed Fans, Cats QB Sets Record, Dems Secret Sauce, Bettor Wins Big
   It's one thing to be good, it's quite another to just be on a string of good luck.  The Chiefs were the biggest winner in the NFL this weekend and they didn't even play.  We paint the playoff picture for you and it doesn't include the Bengals, Bills or Chargers right now.  Amazing.
   The Missouri Tigers have really become their very best version behind the incredible performance of Cody Schrader and a defense that stymied Tennessee all day.  Mizzou is staring at a 10-2 season and if only it was 2024, Mizzou would be in the playoffs.
    KU lost qb Jason Bean early on Saturday but still found a way to tie Texas Tech with :26 seconds left.  Then, they really needed crowd noise and fan support but got none with a half empty stadium.  The coach tried to take the blame, but this is more complicated than that.
  In Manhattan, K-State routs Baylor and qb Will Howard set the all time touchdown pass record for the Cats.  Up next, a trip to Lawrence for the Sunflower Showdown.
   Former congressman Jason Chaffetz has authored a stunning op-ed on what the Dems have done the past two years weaponizing your tax dollars and every federal agency to gather votes for their candidates.  This story could have you fuming.
   But we'll finish with one of the best sports bet stories ever as a Florida bettor crushes the Hard Rock Sports Book for millions on a four leg parlay that was all in just one game!