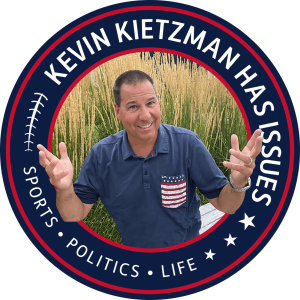 Tuesday Feb 28, 2023
Canceling Old Glory, Mrs. Mahomes Blasts Joe Rogan, Trump to Dump China, KU's Trophy Night, NFL Player Stays Loyal
   It's gotten so outrageous on the left in this country that they are now cancelling the flag in every possible way.  Now the Department of Defense is working to make sure Americans don't celebrate Old Glory as much.  Insane.
   Mrs. Mahomes took to social media to make a fool of herself this playoff season and now she's hammering on the Joe Rogan Podcast for making fun of her.  We'll play the comedians having fun at her expense and provide a road map for her to get out of this mess.
   Donald Trump put out a 5:00 minute video describing a four year plan he will implement as President to take away China's influence over all things in America.
   Tuesday is trophy night for the Kansas Jayhawks after  they beat Texas Tech... it's also Senior Night.
  And one NFL hitting free agency is remaining loyal to the team he is leaving, this is a great story.