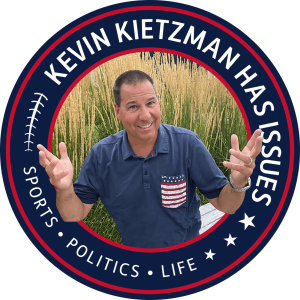 Wednesday May 10, 2023
Bidens Score Millions in Elaborate Scheme, Does GOP Want Him Out?, MTV News Closes, Mahomes is Tiger Woods, MLB Players' Haunted Hotel, Greatest Bobblehead Ever
   The House Oversight Committee led by James Comer has bank records detailing an elaborate scheme during Joe Biden's Vice Presidency, where Biden's family and associates set up 20 different companies using multiple banks in several countries to earn at least $10 million for doing nothing.  This would be the end for a Republican president... period.  We ask the question, do the Republicans even want to knock Joe Biden out when he looks so beatable?
   Paramount is cutting 25% from MTV and Showtime so they are shuttering MTV News.  I remember MTV News when it had an impact in the 1990's but didn't even know it was still a thing.  
    We've known for weeks that Patrick Mahomes is getting a new contract so it wasn't really news when Pro Football Talk wrote a piece about it Tuesday.  The whole thing has me thinking about what Mahomes is doing for others, like Tiger Woods did in golf.
   Did you know there's a haunted hotel in Major League Baseball?  It's in Milwaukee and one Dodgers player won't stay there.   We share some stories from several players about what happened when they stayed there.
   And our friend www.tonyskansascity.com has a brilliant headline about the new aquarium at the KC Zoo.