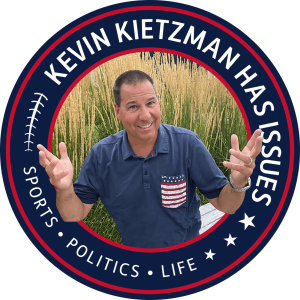 Wednesday Aug 23, 2023
Biden Trip Blasted by Residents, Royals Tale of Two Sites, Fans Turning on Chris Jones, Gary Lezak Sets Temperatures Straight
   Joe Biden has wrapped up a trip to Maui that was completely cringe worthy and is back on vacation in Lake Tahoe.  But the people of Hawaii are mad, really mad.  Dems have let them down at every turn on one of the most tragic fires anyone has ever seen as hundreds are still missing.  One citizen summed it up best and, warning, we'll play it for you despite the foul language.
   The Royals released more details and renderings of two possible sites for a new ballpark and the NKC site is easily the best.  But we'll share polling data suggesting Clay County won't support it.
   On social media, Chiefs fans are turning on Chris Jones telling the star defensive player to show up and start collecting his $20 million salary he's under contract for.
   And after an onslaught of emails from you about all these ridiculous heat index numbers in the media, we call longtime KC meteorologist Gary Lezak to get to the bottom of the madness and talk about his new venture, www.weather2020.com. 
Comments
(2)
To leave or reply to comments, please download free Podbean or
From ICR.org. "Rapid uplift, cracking and surface drainage of receding floodwaters" "quickly carved out" the Grand Canyon. Where do you think that much water came from 2 million years ago?
The Grand Canyon was not formed by ice, Kevin. There was no ice in the area of the Canyon. You should verify these claims before spouting them as facts to we, the listeners. It harms your credibility... 😵