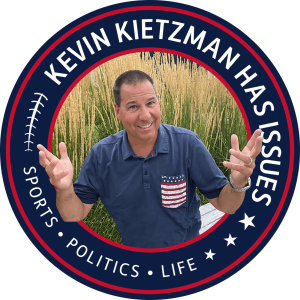 Monday Sep 11, 2023
Biden Misses 9/11, Tucker Slams TX Gov, CFB Winners, Dolphins Feeding Frenzy, Reddick Wins at Kansas Speedway
   As we remember 9/11, we watch our president mumble around in Vietnam calling for a new railroad in Africa and telling reporters he needs to go to bed.  Oh, and they cut off his mic and ended his speech and he didn't even know it.  Oh, brother.
   In Texas, Tucker Carlson takes the stage in a speech against Republican governor Greg Abbott for not sending the National Guard to the border.  You have to hear this.
   Jalon Daniels was electric for the Kansas Jayhawks, K-State was impressive in all three phases again and Mizzou got away with one looking ahead to this week's game against the Wildcats.  Also, the Big 10 stinks and the SEC West has egg on it's face.
   We go around the NFL from Sunday, including Tuo and Tyreek who had a feeding frenzy at the expense of the Chargers.
   Novak Djokovic wins the US Open sponsored by Moderna... the exact shot he refused to take.  Tyler Reddick wins at Kansas Speedway in OT and a former Yankee sets old timers day on fire with his conservative comments.