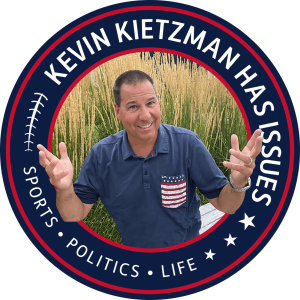 Monday May 15, 2023
Biden Address Flames Racism, Marine's Defense Fund Hits $2m, KK Agrees with KC Star, NFL Stars Slam Dems, Big Slick Lands Hootie
   While our open border is flooded with people coming in that will do harm, like Afghan terrorists on the watch list and Chinese spies, Joe Biden gives a college speech alarming black Americans that the greatest terror threat they face is from white people.  What the hell?
   The hero marine on a subway in New York faces up to 15 years if convicted after subduing a crazy main on the train.  In just one week... $2 million has been raised for his defense and that's a good thing.
   Shocker of all shockers, I agree with the KC Star about renaming something in KC.... but it comes with a caveat.
   A pair of NFL stars are ripping Dems, Hootie is headed to Big Slick, Zack Greinke hits a cool milestone, the PGA Championship begins this week and a 36 year old mother of three get the cover of Sports Illustrated's Swimsuit Issue.